The Love Story Of Shahrukh Khan And Gauri Khan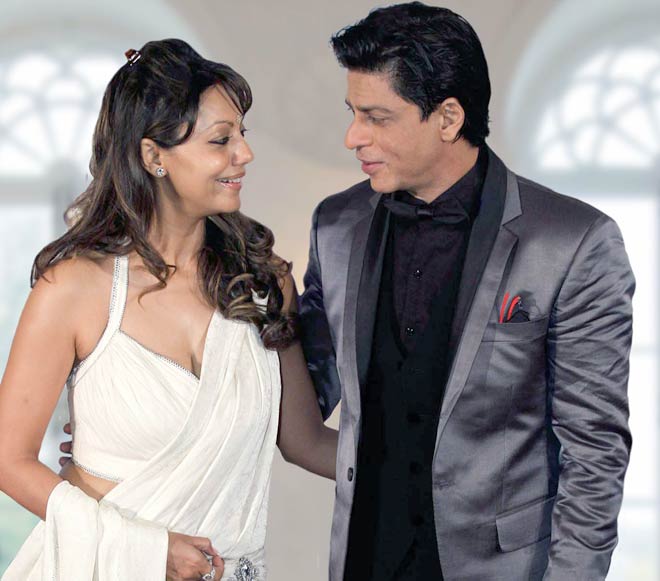 Bollywood, an industry where everyday many relationships start and ends as well, let go of marriages which soon loose their charm and struggle to survive, the magical 27 years of love story of King Khan and his wife Gauri is definitely worth sharing. A marriage which has survived many tests of time, making them the most inspiring and stable couple of Bollywood. it is a beautiful feeling to see them together still even after 27 years in the industry where people and relationships change everyday but the relation of Shahrukh with Gauri has survived all the ups and downs which shows us the real meaning of Love.
The love story of this Bollywood star started with a Dance as every love story starts. Do you remember the tale of Cinderella and her love story with the Prince? Same is his story with her Princess.
The Love Story Of Shahrukh Khan And Gauri Khan
It all started in 1984, when one day Shahrukh's eye fell on Gauri in a friend's party where she was dancing with another boy. Shahrukh being a shy person was not able to ask Gauri for a dance but when he did with a lot of courage, he was turned down by Gauri with a statement "I am waiting for my Boyfriend" who was just her brother and when Shahrukh got to know this, he called Gauri and said, " Mujhe bhi Bhai samajhlo", and that is how the tale started.
The wit, confidence and style of Shahrukh made Gauri fell for him. Soon after that party they started going out on dates but things were never easy for them. Shahrukh, by nature was a very possessive boyfriend. He never liked Gauri to keep her hair open let alone talking to other guys. Because of his possessiveness, Gauri decided to have a break and for that, right after her birthday celebration at Shahrukh's place she left for Mumbai with her friends without informing him. When Shahrukh got to know this, it was then he realized his real love for Gauri and shared everything with his mother who gave her Rs. 10000/- and asked him to go after his love.
Shahrukh recalls, how he and he friends searched the entire city but failed to find Gauri. It was only after a long tiring search that he found her on the beach. Their eyes met and broke down crying in each other's arms. This was the moment they realized they are meant to be together and decided to get married. This is where real drama began.
Gauri belonged to a Hindu Brahmin family and Shahrukh a Muslim, this is where the family issues came up because of different cultures and religion but both went through all the struggles, from keeping their relationship a secret for 5 long years to even Shahrukh changing his name to impress her family. Shahrukh was finally able to convince Gauri's family and on 25 October, 1991 they got married with family's blessings in a Hindu marriage ceremony.
Today, even after so many years, the couple still seem to be deeply in love with each other. They are proud parents of 3 children: Aryan, Suhana and AbRam. Both respect each other's religion and follow them at home. The love, commitment, Trust, Fidelity and Belief in each other is a true example to everyone in and outside the industry. For Shahrukh, Gauri is a complete woman and for Gauri, Shahrukh is the only Man.
Oh yea! With their 28th anniversary approaching soon, we wish them a good luck and many more years of love and togetherness.