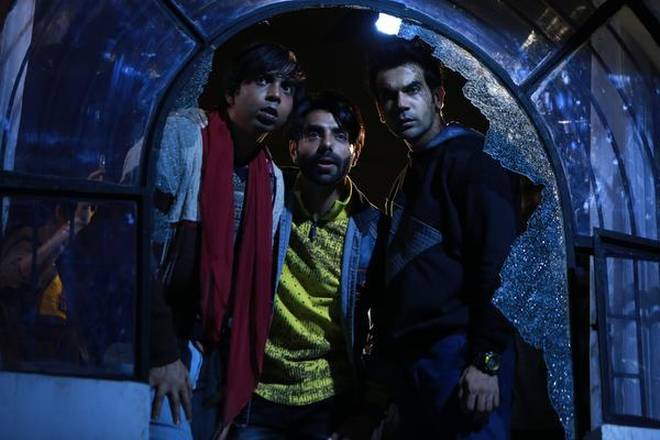 Stree, well known as a "Woman" in English is a 2018 Hindi movie Directed by Amar Kaushik and Written by Raj Nidimoru and Krishna D.K. based on an Indian Urban legend from Bengaluru about a witch who knocks on people's doors at night. Rajkummar  Rao was selected in the lead role by Vijan in November 2017 and in December Shraddha was confirmed as lead female. For his role in the movie, Rajkummar learned to Sew.
On 13th Januray 2018, in Chanderi, the principal photography started and filming was done in Mumbai and Bhopal. Soundtrack is given by the famous bollywood duo Sachin-Jigar and lyrics by Vayu, Badshah and Jigar.  With a budget of 24 Crore the Gross Earnings were of 114 Crore and has emerged as a Commercial Success, sequel of which is now under process.
The acting done by Rajkummar Rao is as good as he is, perfectly handled the shades of Comedy, Horror and Romance with an ease. Aparshakti and Abhishek have successfully offered wonderful comedic punches as friends. Pankaj Tripathi's comic timing and role as a bookshop owner, who knows it all is an excellent highlight of the movie. Shraddha's character is a little bit of an enigma still she perfectly manages an air of mystery.
STAR CASTE: 
1)    RAJKUMMAR RAO as VICKY.
2)    SHRADDHA KAPOOR as UNNAMED WITCH.
3)    PANKAJ TRIPATHI as RUDRA.
4)    ABHISHEK BANERJEE as JAANA.
5)    APARSHAKTI KHURRANA as RUDRA
6)    VIJAY RAAZ as SHASTRI.
7)    ATUL SHRIVASTAVA as VICKY'S FATHER.
8)    AAKASH DABHADE as NARENDRA.
9)    FLORA SAINI as STREE.
10)  BADRI CHAVAN as VICKY'S FRIEND.
11)   NORA FATEHI(special appearance in the song "KAMARIYA").
12)  KRITI SANON(special appearance in the song "AAO KABHI HAVELI PE").
RELEASE:    The trailer released on JULY 26, 2018
RELEASE DATE IN INDIA:    31th AUGUST, 2018 and also WORLDWIDE.
RELEASE DATE WORLDWIDE:    30th AUGUST, 2018 (U.A.E.)
STREE: MOVIE REVIEW
STORY:
The film opens in Chanderi, a small town in India, residents of where believe in a myth of an angry woman GHOST referred to as STREE in the movie who stalks men during a festival and is found calling out the men when they are alone and if the men turn around, the Stree whisks them away, which is explained by the sudden disappearance of those men, leaving their clothes behind. Chanderi's young wonder TAILOR Vicky (Rajkummar Rao) falls in love with a mysterious girl (Shraddha Kapoor) who only appears during the 4 days of the festival. Her disappearing acts makes Vicky's friends suspicious and they start believing that she could be the STREE hunting the city but Vicky refuses to believe the gossip. After Jaana's disappearance, Vicky attempts to research the myth, comes across a book in a library, few pages of which appear to be torn. Stree then attacks Vicky but gets driven by his Crush. Jaana gets recovered but starts behaving abnormally. Next morning, few men from Jaana's doings are found missing. The girl suppresses the friend.
Vicky and the girl after meeting the book's author come across a riddle which can be a savior from Stree, who is later found to be Vicky. Vicky, the girl and his friends attack Stree but leave her alive after cutting off her magical hair, which makes her powerless. Next day at the bus stop, Vicky's mysterious girlfriend is seen and Vicky bids her the farewell. While on the bus, the girl is seen carrying the magical hair which she places with the rest of her own hair and disappears, revealing that she could be the next witch.
The Stree visits Chanderi again and finds her Statue at the town entrance with the words "O STREE RAKSHA KARNA"(O WOMAN, PROTECT US!).
WHY TO WATCH?:  Women have been pilloried and victimized on the basis of there putrid beliefs, since ages. And the horror!!!  Rein her in, tie her up, tamp  her sexual desires, put a knife through her scheming heart, burn her at the stake.
It is an appropriate step that these toxic notions are sent up in a horror-comedy. Stree's premise is a cracker, leaving you grinning in the dark. But the final execution is still a tad clunky: subversion in a film willing to embrace its silliness can be very effective but it can get diluted if your messaging is mixed.
Despite having ambiguous ideas and flaws, Stree still proves to be a complete entertaining film. It is an experimental comedy that creates an eerie atmosphere and manages to be funny and scary both at the same time.