Saloon Coaches In Trains Available For Public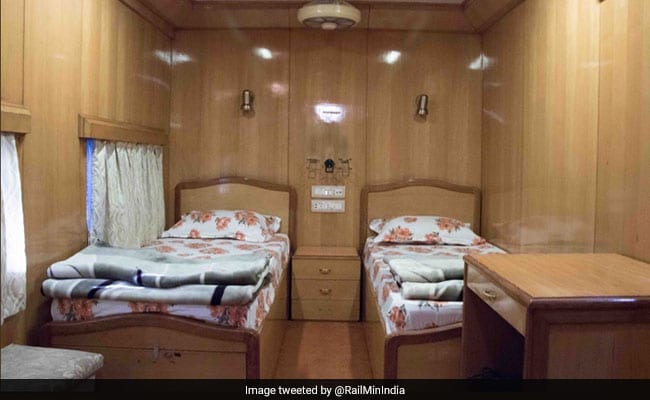 India's first ever saloon coach which has an attached air conditioned room, attached washroom and valet services are now available for charter for the common people.
A real good news by the Railway Minister Piyush Goyal for those who love train journeys. The minister has told IRCTC to make saloon coaches available to the public which were earlier reserved for railway officials only for traveling to remote areas which are not connected by Road or Air. Railways, in total have 336 saloon cars across railway zones out of which 62 are air conditioned. The Railway Minister wishes to provide the best services to the public and always look forward for feedback to improve the services.
Only the saloons which are meant for safety needs won't be provided for commercial use.
The Indian Railways in association with IRCTC aims to provide a luxurious experience in its saloon cars while taking you to your destinations. The cars provide you an environment of being at home with its spacious rooms.
The saloon cars are perfect option for newlyweds couples who look for some privacy while they travel. You can also host meetings on the go in these saloon coaches.
The saloons or inspection cars are able to accommodate 2 families for 5 days stay.
The saloon coach comprise of 2 bedrooms out of which the twin bedrooms gives you the comfort of a hotel. Both the rooms have attached washrooms with facilities like cold and hot shower, water closet, etc. Other facilities include, cupboards, luggage racks, writing table with a chair and a dressing table.
The living cum dining room is spacious with an air conditioner equipped with a sofa along with a Television and dining table with chairs to give you a great time and a comfortable journey.
The trailing windows provide you an amazing view of the countryside, keeping you close to the nature.
Every saloon is equipped with a separate kitchen where fresh food is prepared and served to you. The kitchen is equipped with all the necessary items along with a chef or a cook with all the cooking materials.
Every saloon consists of 4 to 6 extra beds for accommodating more people.
The cost of chartering the saloon is around 2 lacs as reported by IRCTC.
M/s Royal India Train Journeys are the first to book the coach for its premium customers travelling to Jammu in which they are provided with all the luxury and comfort of a hotel along with a staff for services on board. For a hassle free travel, the railway also provides one AC and one saloon attendant.
Time to pack the bags and enjoy the train journey!