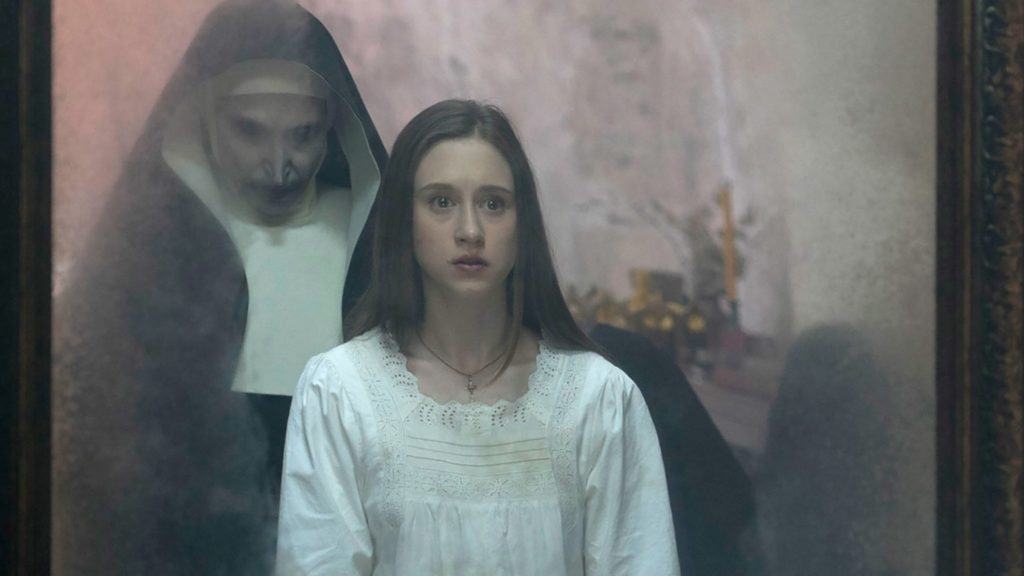 The NUN is an American supernatural horror 2018 Hollywood movie in the conjuring horror universe directed by Corin Hardy which explores the origins of the DEMON VALAK or atleast how it entered our world from Hell in the series' history. It is a prequel of Conjuring 1 & 2 having only 2 characters who appeared in the later movies as well. One of them being the VALAK, the Nun and secondly, The SPOILER. The plot follows a priest and a catholic novitiate as they uncover a secret in 1952 Romania. The movie has a lot of church with the entire film happening in an abandoned abbey in Romania. It received a mixed review from critics.
STAR CAST:
1)    Taissa Farmiga as Sister Irene.
2)    Jonas Bloquet as Maurice "Frenchie"Theriault.
3)    Bonnie Aarons as Valak/The Nun.
4)    Demian Bichir as Father Burke.
5)    Ingrid Bisu as Sister Oana.
6)    Charlotte Hope as Sister Victoria.
7)    Claudio Charles Schneider as Demon.
8)    Michael Smiley as Bishop Pasquale.
RELEASE DATE: September 4, 2018 (TCL CHINESE THEATRE) and September 7, 2018 (UNITED STATES). On 13th June, 2018, a teaser trailer was released.
MOVIE REVIEW: THE NUN
STORY: The movie dates back to 1952 in Romania, 2 nuns living in Romania are attacked by an unseen presence out of which one nun "Sister Victoria" survives and flees from the attacker and hangs herself  by jumping out of the window. Her body is found by Frenchie, a man who delivers supplies to the Nuns.
The Vatican after knowing about the incident sends one of its problem-solving priests(FATHER BURKE) to investigate, alongwith young novitiate Sister Irene. Upon arrival, despite Frenchie having laid her horizontally, they discover Sister Victoria's body in a sitting position. Once inside, they encounter the ABBESS,  offering a lodging at the nearby convent. Frenchie is attacked by a nun's corpse when he returns to the village but manages to escape. Burke reveals a secret from his past to Irene. A demonic entity terrorizes them the same night but Irene rescues Burke and discover lots of ancient books about demons. Next day Irene and Burke return to Abbess but only the former could enter as it is cloistered. She meets other nuns and finds them praying in shifts to keep evil at bay. Sister Oana reveals the castle's history. Meanwhile Burke identifies the entity as Valak and discovers the abbess has been dead all along and is chased by the evil entity as the boy he exorcised. Frenchie returns back to abbey to save Irene and Burke. Irene is attacked by Valak, then joins several nuns praying. As a loud noise pushes all the nuns except Irene, the unseen demon craves a Pentagram on her back. Burke and Frenchie try to enter the abbey to save Irene. When all 3 reunite, Irene finds none of the nuns were real and she had been praying alone. They also learn that Victoria was the last nun and had sacrificed herself to stop Valak from possessing her body and spreading evil.
Theorizing that Valak can be stopped by sealing the damaged rift with blood, the trio retrieve the vial with the key Sister Victoria had. Irene, who gets lured into a pentagram is saved by Frenchie by smearing some blood of Christ on her face.  Valak throws Irene in a flooded chamber containing the rift. Burke gets wounded. As Valak inspects Irene's body, she spits the Blood of Christ at the demon, banishing it as the blood seals the rift. Frenchie then reveals his name as Maurice who was partially possessed by Valak.
21 years later at a university seminar, Carolyn Perron watches footages of Warrens attempting to exorcise Maurice. Maurice touches Lorraine, giving her visions of ED dying, which initiate the Warrens' investigation as well as encounter with Valak.
WHY WE MUST SEE THE MOVIE?: When a young Nun in Romania takes her own life, a priest with a haunted past and a novice on the verge of her final vows are sent to investigate the death of a young Nun in Romania by the Vatican. Together, they uncover the order's unholy secret risking their lives, their faith and souls and confront a malevolent force in the form of a demonic nun.