ABOUT MOVIE: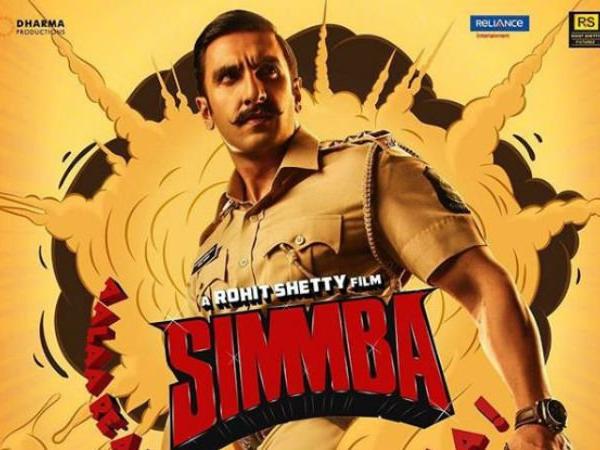 A 2018 Indian Hindi Action movie directed by Rohit Shetty, Simmba is a spin off the Singham franchise.
Sangram Bhaleroa famously known as "Simmba" is an antiheroic orphan turned cop from Shivgadh which is said to be the same town where Bajirao Singham (Ajay Devgn) was raised. Simmba enjoys and takes full advantage of the lifestyle of a corrupt cop which is contrary to Bajirao's integrity. But when Simmba's loved ones are abused, he transforms and chooses the right path.
STAR CAST:
Ranveer Singh as ACP SANGRAM BHALERAO "SIMMBA".
Sara Ali Khan as SHAGUN SATHE.
Sonu Sood as DURVA YASHWANT RANADE.
Ashutosh Rana as HEAD CONSTABLE NITYANAND MOHILE.
Siddhartha Jadhav as SANTOSH TAWADE.
Vaidehi Parshurami as AAKRUTI DAVE.
Ulka Gupta as NANDINI MOHILE.
Suchita Bandekar as Mrs. MOHILE.
Sulbha Arya as Mrs. IYER.
Ashwini Kalsekar as JUDGE SMITA PARULKAR.
Neha Mahajan as KAVYA, AAKRUTI's FRIEND.
Nandu Madhav as AAKRUTI's FATHER.
Sarita Joshi as BHARTI RANADE.
AJAY DEVGN, AKSHAY KUMAR, TUSSHAR KAPOOR, KUNAL KHEMU, SHREYAS TALPADE, ARSHAD WARSI and KARAN JOHAR as Cameo appearance.
RELEASE DATE:
28 DECEMBER, 2018 (INDIA), and 27 DECEMBER, 2018 (UAE).
STORY:
The movie shows how Simmba; the corrupt officer enjoys the dishonesty. Once he is transferred to a different town, he meets Shagun and the love blossoms between the two. Simmba is also seen to develop a good bond with Aakruti, a medical student who teaches poor kids. Aakruti one day faces an incident and is found dead. The events forces Simmba to convert from a corrupt officer to choose the right path and get justice for Aakruti. The climax is seen to have Singham to help Simmba.
WHY WE MUST WATCH: You must watch the film if you are looking out for a complete masala, paisa vasool movie. Rohit Shetty's work as always is remarkable inspite of following some scenes from a Tamil movie "TEMPER". The movie is loaded with good dialogues, heartfelt emotions, humor and high action sequences. Ranveer Singh is the lifeline of the movie whereas Sara Ali Khan sparkles in her role. Sonu Sood is in a terrific form.