Famous Lathmar Holi Of Barsana To Be Celebrated For 6 Days
Lathmar Holi (लट्ठमार होली in Hindi) is a unique of celebrating the festival of Holi in Barsana in Uttar Pradesh. While we all know how the Holi is celebrated, by playing with colours of course, Lathmar Holi is something unique in this region of India. The Lathmar holi is so unique that people from all across the world come to this place to witness the fun Lathmar Holi.

What is Lathmar Holi?
Legend has it that Lord Krishna visited his beloved Radha's village on this day and playfully teased her and her friends. Taking offence at this, the women of Barsana chased him away. Keeping in sync with the story, the men from Nandgaon visit the town of Barsana every year, only to be greeted by sticks (aka lathis) of the women there. The ladies hurl sticks at the men, who try to shield themselves as much as they can. The unlucky ones are captured by the enthusiastic women who then, make the men wear female clothing and dance in public. The women of Barsana start preparing a month in advance. In the sprawling compound of the Radha Rani temple in Barsana, which is said to be the only temple in the country that is dedicated to Radha. Thousands gather to witness the Lathmar holi when women beat up men with sticks (laṭh or lāṭhī) as those on the sidelines become hysterical, sing Holi Songs and shout Sri Radhey or Sri Krishna.

-Wikipedia
Have a look at the photo below to understand what exactly it looks like!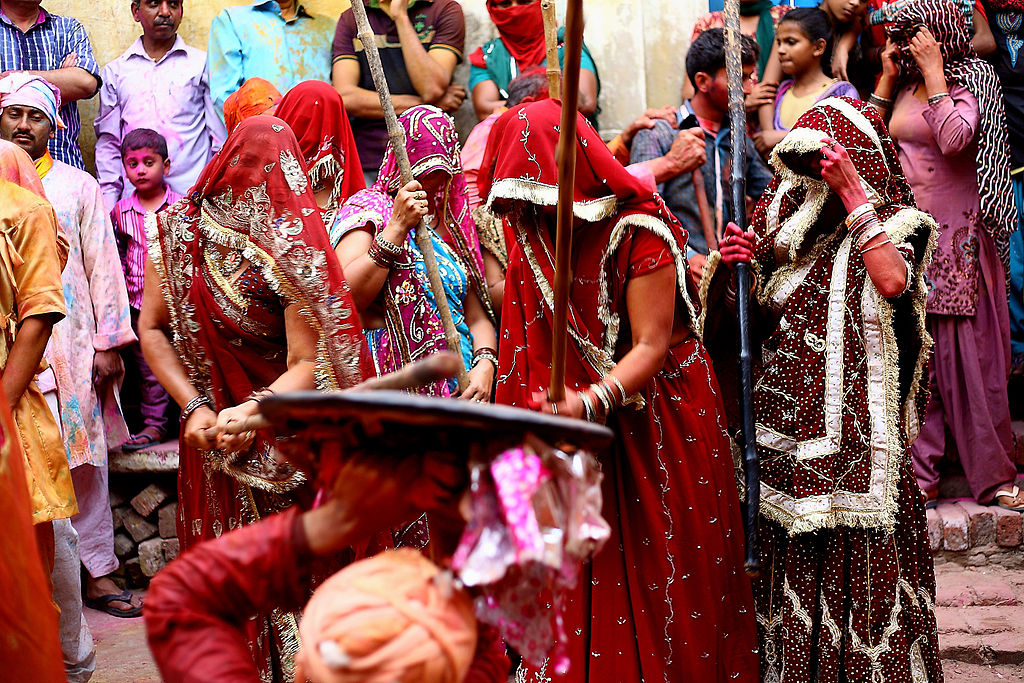 This unique way of playing Holi is very famous. This type of Holi in Barsana is played for 2 days but considering the amount of tourists that come from all across the world, this year it will be celebrated in 2 phases for a period of 6 days informed the officials. This year, not just Barsana but Mathura too will be the host for the same.
All the activities done during the Lathmar Holi are just for fun and none participating in in this take offense for whatever happens. Yes! That's the fun part. All happens but it's ends with the famous phrase 'Bura Na Maano, Holi Hai' and all's forgiven and forgotten!
Isn't it amazing? We are just hoping that that the tourists who are going to witness this unique Holi enjoy their time there to the core and leave the place with huge smiles and unforgettable memories. After all, it's Holi the festival of colours and joy.
By the way, what are your Holi plans? Booking tickets for Mathura to witness Lathmar Holi yet?