Koffee With Karan Hardik Pandya Episode Removed From Hotstar App
Recently the episode 12 of Koffee with Karan had two crickets Hardik Pandya and KL Rahul. While the audience gave reactions instantly as twitter was flooded about how 'cringe-worthy' the episode was, now even Hotstar app has also removed the show from it's list. Yes, if you try to find this particular Koffee With Karan episode online on Hotstar or any other streaming platforms, you won't be able to find it because it has been pulled down.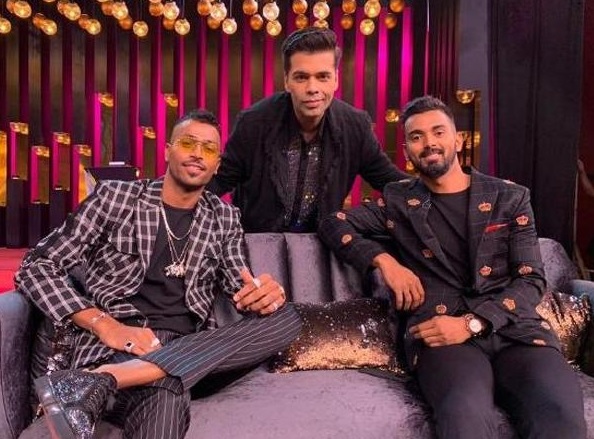 Buzz is also there that BCCI has banned the cricketer for it's sexist and absurd comments.Surely this was not expected from someone like Hardik Pandya. The comments made by Pandya were tagged as Sexist, Racist and Absurd.
Though Hardik Pandya has issued a public apology after this Koffee With Karan episode but surely audience and viewers won't be able to forget as what came out on the show was real which made the people understand the real side of the man.
Some reactions on Twitter are as follows:
The first ever episode of #KoffeeWithKaran where I couldn't sit through the one-hour show … #HardikPandya proved he is a 9th standard failure … no education, no etiquette & no respect towards women … what a waste of time!!!

— Poulami Mukhopadhyay (@poulamiofficial) January 6, 2019
Why blame Hardik alone, I thought Karan Johar as host was equally culpable for relishing the locker room jokes and goading his guests even as their misogyny was on full display.#KoffeeWithKaran

— Nikhil Naz (@NikhilNaz) January 9, 2019
It might have been fun initially to watch two young sportsmen letting their guards down, but the obnoxious and misogynist attitude of Hardik Pandya just was too much to take in. At one time, cricket was called a gentleman's sport. Where has all the class gone? #KoffeeWithKaran

— Medha Chatterjee (@moldyshorts16) January 6, 2019
More than himself or his family Hardik Pandya has let down the Team dressing room. More than BCCI, the team management and players must be asking questions of him #KoffeeWithKaran

— Vikrant Gupta (@vikrantgupta73) January 9, 2019
Saw Super cheap Hardik Pandya on Koffee with Karan. Thanked my parents for sending me to school. Obnoxious, dumb and a total wannabe!! Dont defame Indian Cricketers and Our Jersey you Hiphop victim!
#KoffeeWithKaran #KoffeeWithCricketers #HardikPandya

— Koena Mitra (@koenamitra) January 9, 2019
Just 10 mins into #KoffeeWithKaran episode of KL Rahul & Hardik Pandya, and I am already turning it off.
CLASSLESS is the word to describe what these guys speak/spoke about.
Definitely not the sort of things you would want to hear from anyone, let alone from National Cricketers.

— Abhishek Barthur (@imabhi27) January 6, 2019
We feel this episode was a perfect example of 'Think Before You Speak'.
And from the team Oh That Buzz, a round of slow-claps!