How To Perform Diwali Puja At Home?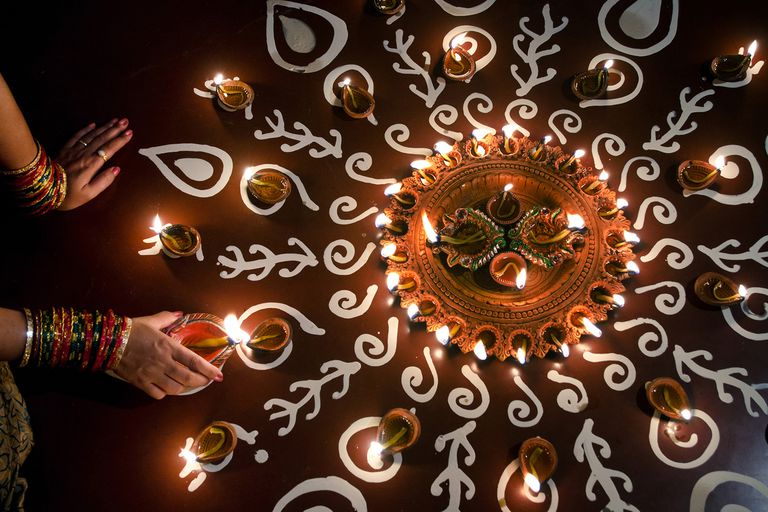 Diwali, a 5-day long festival which brings fortunes, good-luck, prosperity, happiness and peace keeps us energetic and in a good mood. We meet relatives, share gifts and happiness and blessings. Diwali, the most auspicious festival having such a splendor that we forget it is Amavasya (Moonless) night. The festival involves the worshipping (puja) of many Hindu deities but mainly Lord Ganesha and Goddess Lakshmi are worshipped by hymning various Mantra, performing Aarti, & Offerings and lastly burning Crackers. The Diwali puja is performed by the people of Hindu Deities by cleaning houses and work space, bringing in the God and Goddess, worshipping them, distributing Prasad, taking blessings from elders, burning crackers and finally visiting and greeting friends and relatives.
The family that prays together, stays together! So friends out there, don' t forget to bring in or invite your family and extended family together and friends on this auspicious occasion and join hands in prayer.
How To Perform Diwali Puja At Home?
Here is a step by step guidance on Diwali Puja to get you a fair idea of how you can proceed and make your Diwali Prosperous and happy:
1) DIWALI PUJA PREPARATIONS: As per our rituals and traditions, the preparation starts off much earlier by House/Workspace-Cleaning, Shopping for Sweets, New Clothes/Idols of God & Goddess/Crackers/Gift Items/Dry Fruits/Decorative Items etc., then decorating the House and Workplace. Some people keep FAST on this day and break it in the evening one the Puja is done. You can keep a full day Fast if your health allows.
2) DIWALI PUJA SAMAGRI (Things needed for Puja): According to the rituals, customs and beliefs, the Samagri can vary amongst families and regions. For example, Business families worship their Accounts Book on this day. The basic things which are commonly needed are mentioned here, rest of the items you can consider from elders in the family:
a) Mithai (The most common and our favourite).
b) Puffed rice.
c) Idols of Lord Ganesha and Goddess Lakshmi(You can add other Gods and Goddess as per your cultural belief).
d) Pot/Kalash
e) Mango Leaves/Aam Patta.
f) Milk & Curd.
g)
h) Rose Flowers/Petals
i) Rose Water.
j)
k) Honey
l) Coriander Seeds & Cumin Seeds.
m) Kumkum/Moli (Red Dhaaga).
n) Water
o) Fruits/Dry Fruits.
p) Dhoop Batti/Agarbatti.
q) Small Stool with Clean Sheets.
3) SHUBH MUHURAT FOR DIWALI PUJA: The best time for the Puja varies depending on the year and movements of our Grah-Nakshatra. Usually, the Muhurat time is in the evening starting after sunset from 6:00 P.M. to 8:00 P.M. which is also known as PRADOSH  KAAL and lasts for 2 hours and 25 minutes. If you want to know about the exact muhurat timings of the year 2018, then it is advisable to consider your puja-book and/or contact a Priest. You must ensure to start before Lakshmi Puja Muhurat as the muhurat is too short to complete the entire puja on time.
4) GANESH-LAKSHMI PUJA VIDHI: The method varies depending on Regions and Cultural Beliefs and Individual Household's Rituals. You can consider the basic method given here and add-on your beliefs accordingly:
a) Spread a clean cloth where puja is to be performed (small stool/chowki is recommended) and create a Rice Bed on it. Now place the Kalash on the Rice Bed and also the idols of Lord Ganesha (On Right Hand Side) and Goddess Lakshmi behind the Kalash.
b) Pour Water in the Kalash, put a Betel Nut, Flowers, Coin and some Rice inside and tie up the Aam Patta around the opening with a Moli(Red Dhaaga).
c) Decorate a Thali with Puja items, Sprinkle Gang-Jal and keep the atmosphere clean, scented and well lit with Lamps.
d) You can now recite Mantras (Priest will do the task) for invoking the Goddess Lakshmi. You can get the Mantras from Puja Books or find Online.
e) Make offerings of Fruits. Flowers, Dry Fruits, Sweets, Modak(To Lord Ganesha), Rice, Small Garlands, Coconut, Betel Nuts, Sandalwood Paste, Kumkum, Incense Sticks during the Puja.
f) In the end, recite your own cultural and traditional Mantra and distribute the Prasad.
5) KUBER PUJA ON DIWALI: Apart from Lakshmi Puja, Lord Kuber or widely known God as Treasurer of Gods, is also worshipped. For this, worship your Locker/Safe in which you keep your Gold and Cash at Home and Office.
So, now that you are all aware and set for the task, it is a good idea to start the detoxification of your House and Workplace to avoid the last minute rush and also it is a time-consuming process as you might feel the need to Renovate/Repair or Change any household item and bring in something new. Then, go and conduct your shopping (Don't forget lots of Tasty Mithai and New Clothes and Crackers).
So, wish you all a very Happy Diwali in Advance with a request : Try to go Environmental-friendly this year.