Ganesh Chaturthi Wishes in Hindi and English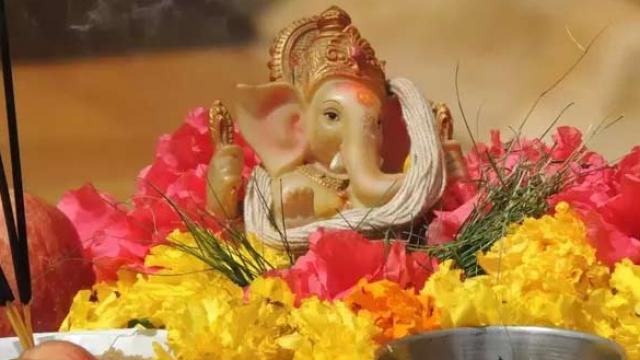 The lord of wisdom and happy beginnings is worshipped all over India during Ganesh Chaturthi. But, this festival is hugely celebrated especially in Maharashtra where almost every household brings home a Ganesh idol during this festival. The idol is worshipped for ten days and the festival culminates on the day of Anantha Chaturdashi when the idol is finally taken and immersed in river waters.
There is great zeal and enthusiasm among devotees of Lord Ganesha. They wish each other on this auspicious occasion hoping prosperity for everyone around. Relatives, friends, colleagues, neighbours all wish each other so that Lord Ganesha blesses them all. So here I would like to share some wish ideas with you people.
Following are a few wishes which you can share with your loved ones over a WhatsApp message, Facebook, Instagram, e-mails or maybe a hand-made card. Personally, hand-made cards are my all time favourites. There's something very loving that I feel whenever I receive a hand-made card! So you choose how you want to wish and go ahead with these wonderful wishes-
Ganesh Chaturthi Wishes in Hindi and English
May Lord Ganesha bestow you with great success, destroy all your worries and bring happiness and joy to your life. Happy Ganesh Chaturthi!!
Wish you a very happy Ganesh Chaturthi!!
May God Ganesha wish you great success and prosperity in life.
Vakratund 
mahakaye
suryakoti
samprabha
Happy Ganesh Chaturthi to you and your family.
Wishing you happiness as big as Ganesha's appetite,
Life as long as his trunk,
Trouble as small as his mouse,
Moments as sweet as 
modaks
Sending you wishes on Ganesh 
Chaturthi..
May Lord bless you all.
May the destroyer of evil
Shower upon you his choicest blessings
and wish you all with happiness, joy and good health.
Sending wishes on this auspicious festival.
So, these were a few ideas on how you can shower love and blessings to your loved ones.
Go ahead and show some good messages across your social media handles!!