Easy Dessert Recipes For Navratri Fast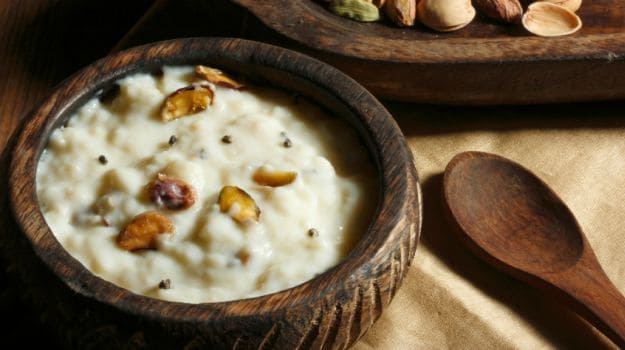 Navratri, a festival celebrated by Hindus around the world enthusiastically and with zeal. The festival is celebrated by worshipping Goddess Durga and her 9 divine forms for 9 days.
Navratri is a time when spirituality meets festivity as Hindus adopt a different lifestyle to get rid of evil surroundings and thoughts and celebrate the joys of new season with a clean soul, mind and body.
Devotees observe fasts to show their religious sentiments and devotion to Goddess Durga.
If you are also planning to observe fast this year then you might have already prepared a special Navratri diet to follow.  When you eat one same thing everyday, observing fast can get a tad monotonous but that doesn't mean you cannot have your fun with the limited ingredients you have during Navratri.
Here we bring you 3 special Navratri dessert recipes which you can enjoy for 9 days of Fasting.
1)    CARROT HALWA: A popular tasty North Indian dessert which people usually make in winters. All you need is Ghee, Sugar, few Dry Fruits and Full Fat Milk to prepare this dessert.
INGREDIENTS:  1 CUP (250 ml).
Carrots: 8 – 10
Full Fat Organic Milk: 4 CUPS.
Ghee: 4 TBSP.
Sugar: 10 – 12 TBSP.
Cashews (Kaju): 20 – 25 pieces.
Green Cardamom (Choti Elaichi): 5 – 6, powdered finely in about 1/3 Teaspoon cardamom powder.
Saffron Strands (Kesar): 1 Pinch.
Golden Raisins (Kishmish): Handful.
HOW TO PREPARE:
A) In a deep thick bottomed pan or a kadhai, combine grated carrots and milk.
B) Boil the mixture on a low to medium flame.
C) Let the mixture simmer, meanwhile keep stirring in between.
D) The carrots will cook in the milk and the milk will start reducing and evaporate.
E) Add Ghee, Powdered Cardamom and Sugar to the mixture.
F) Stir Well.
G) When about to end, add cashews, raisins, saffron and simmer the Halwa until the milk totally evaporates.
H) Serve both Hot and Cold.
2)    SHRIKHAND: A tasty Maharashtrian dessert which can easily be found in Maharashtrian marriages and Thali Food in restaurants. The dessert is mainly made up with Hung Curd. It is very easy to prepare Shrikhand if you prepare your Hung Curd properly.
INGREDIENTS:
Sugar: 8 – 9 TBSP.
CARDAMOM POWDER: ½ TSP OR GREEEN CARDAMOM: 4 – 5 TSP, finely crushed.
SAFFRON: 2 PINCHES.
WARM MILK: ½ TBSP.
PISTACHIOS: 7 – 8 crushed or chopped.
HOW TO PREPARE:
a) HUNG CURD:
A) On a deep bowl, line up a strainer and a muslin cheesecloth or kitchen cotton towel on the strainer.
B) Pour fresh curd, approx. 4.5 Cups.
C) Bring the 4 edges of the muslin together and tie one edge tightly around the rest.
D) Press gently and you will see the whey dripping.
E) Now keep the muslin in the fridge if you have a hook to hung it or else place a heavy bowl or a tray on the tied muslin for 24 hours.
F) Next day whole whey will be drained and hung curd will be ready which you can use in your everyday food items.
G) Collect the hung curd in a bowl having lid and refrigerate. You can now proceed to make the Shrikhand.
b) SHRIKHAND:
A) Take ½ TBSP warm milk, add Saffron, stir and keep aside.
B) In a mortar powder 4 to 5 green cardamoms, keep aside.
C) Take hung curd in a bowl.
D) Add Sugar and stir well, then add saffron dissolved milk and powdered saffron.
E) Whip the hung curd until smooth and sugar dissolves with an electric beater or in a blender. Taste and add more sugar, if required.
F) Refrigerate the curd and serve it chilled. You can top it with sliced dry fruits while serving.
3)    BADAAM (ALMOND) LADOO: The easiest recipe on the list and fastest to make. A healthy snack for kids.
INGREDIENTS:
BADAAM: 130 GMS. / 1 CUP.
JAGGERY: 60 GMS. / ½ CUP.
RAISINS: 2 TBSP.
GREEN CARDAMOM: 3.
HOW TO PREPARE:
A) Heat a thick bottomed pan, keep the flame low and add 1 cup almonds. Stir at intervals until the almonds become crunchy.
B) Cool and taste a few almonds. Just make sure you do not burn them.
C) Once roasted, add 2 TBSP Raisins and mix well.
D) Switch the flame and remove the roasted almonds and raisins in a plate.
E) Add both almonds and raisins with seeds from 3 green cardamoms and 1/3 cup powdered Jaggery in a Grinder and grind it until you get a fine consistency with some oil released from the almonds.
F) Do not grind at one stretch go in parts and keep checking the mixture to make sure it holds a shape and not crumble.
G) Take the mixture in a bowl and start shaping it into ladoos with your palm.
H) Once done, store in a air tight jar.
I) Serve them as a healthy snack.
Try these tasty easy to make desserts this Navratri and make your fasting season a delicious one.
Happy Navratri!