Chetan Bhagat's "The Girl In Room 105" Honest Book Review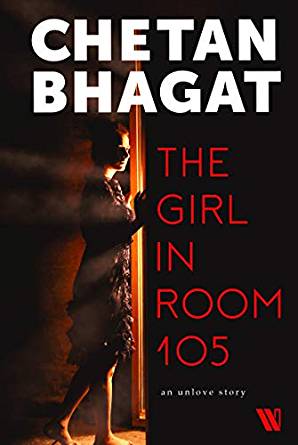 Chetan Bhagat, an Indian bestselling author writes op-ed columns for English and Hindi newspapers, focusing on youth and issues based on national development. Chetan Bhagat is also a motivational speaker and has given talks in leading MNCs and other institutions. In 2009, Chetan quit his international investment banking career to devote his entire time to writing. A graduate of Indian Institute of Technology (IIT) Delhi and IIM Ahmedabad, Chetan is seen more as a youth icon than as an author.
Chetan Bhagat has written various novels and had been a part of a TV serial Gumrah which focuses on youths and their crimes. His novels have also been a part of Bollywood movies.
Chetan Bhagat's "The Girl In Room 105" Honest Book Review
The novel is an unlove story of Keshav and his girlfriend Zara; a Kashmiri muslim girl who breaks up with him and moves ahead in life whereas Keshav fails to do the same. He drinks every night to forget Zara but fails up every time and stalks her on social media only to get ignored by her. However, on the night of Zara's birthday after 4 years of breakup, she calls him to her hostel room 105 where Keshav shouldn't have gone but he did, which changed his life forever.
The story opens with Chetan Bhagat travelling on a midnight plane from Hyderabad to Delhi in which the hero cum detective of this latest novel Keshav Rajpurohit who hails from Alwar and is an ex student of IIT is seated next to him in the plane. After some initial boring conversation, Chetan agrees to listen to the unlove story of Keshav.
The story remains predictable in snatches but the way Keshav and his friend solves the murder mystery is a delight to readers as the language was not supportive to its highly looking plot. Overall, it can be said as a good attempt by Chetan Bhagat. It can also be seen as a half backed story with an amateurish writing. Actually, it is a no baked story where the restaurant has served you just toppings to hide the empty serving plate.
In the end, The Girl in Room 105 fails to express completely. Zara's brilliance is not reflected in any part of life except in the opening paragraphs where she participates in a debate competition. None of Zara's independent and free-thinking nature is reflected in the story.
The suspense author has managed to keep throughout the novel is really appreciable. The character of Saurabh is really loveable. He was a genuine, witty, funny, intelligent and supporting friend and without his help, Keshav would not have been able to solve the case.
A murder mystery that Chetan Bhagat is not known for, the author has done a great job in the plot and the characters, and with the twist in the end was something no one sees that coming at all. You keep guessing as to who could be the mastermind behind it all, in a lot of murder mysteries but the author successfully shocks you in the end with something you wouldn't have expected.