Best Saree Blouse Designs To Rock This Season!
Blouses have been the under-dog for too long and it is now time to unleash them and their true potential into existence! Yes, that was certainly a little heavy handed but desperate times call for desperate measures right?
Best Saree Blouse Designs To Rock This Season!
Well, blouses have been the silent comrade for sarees since quite some time and their importance has been pushed to the pavement. So, imagine wearing a beautiful saree with an ill fitting blouse, or maybe a blouse that just does not suit the look correctly. Now imagine the opposite the absolute best fitting blouse with the most appropriate colour and design. See the difference?
A blouse could be worn in various ways and here are some designs which could make wearing even more fun and stylish!
#1. The Round Neck
Yes, this one is nothing special but deserves the very first mention for its loyalty which has lasted an eternity. The simple round neck is one blouse design which can be worn absolutely everywhere irrespective of the occasion or the saree colour and style. It goes well with the regular cotton sarees which are worn at home and can even accompany you to parties if you just add some shine and bling. Its simplicity makes it everyone's cup of tea and in case you are wearing an expensive saree it will ensure all eyes stick to it!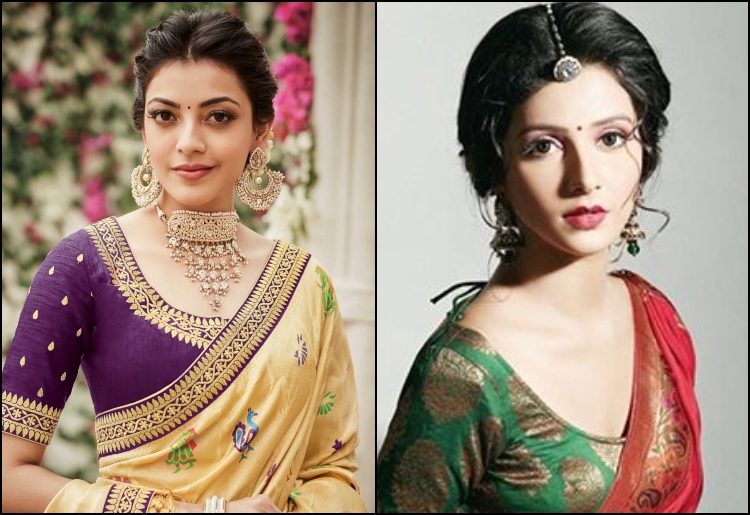 #2.  High Neck Full Sleeve Blouse
High neck in blouses is relatively new but is being adapted quite fast! The high neck trend obviously began with celebrities and was passed down graciously. High neck blouses have beautiful chokker like ornaments in the neck region and were mostly worn without sleeves. The new trend has now introduced longer sleeves which could make the thickest girl look sleek, if that is what you want obviously.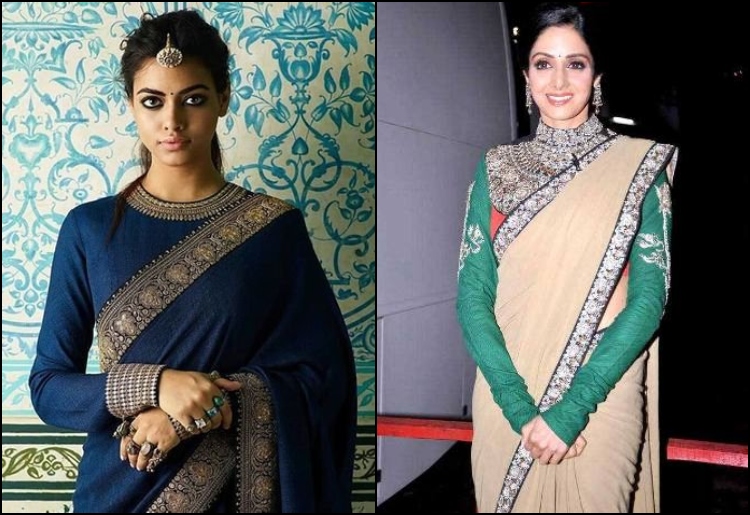 #3. Transparent Back Blouse
So backless was the rage a while ago but it got a little diluted when it was passed on from tv to reality due to its unattainable body issues. You will rarely find a woman who is not at all conscious of her back and happily agrees to wear a backless blouse. So, here transparent or sheer back blouses came to the rescue. These blouses have little to no coverage and can make any skin look flawless with its filter like finish.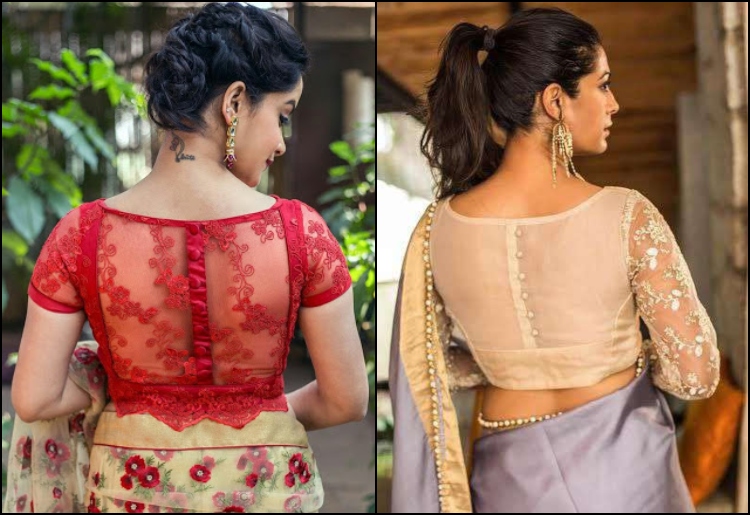 #4. Boat Neck Blouse
Each blouse as its own importance and so does boat neck blouse. This blouse is best topped with subtle and light sarees which do not have too much of embroidery of weight since it would get difficult to pin so much weight and maintain its original couture. Light coloured silk sarees with deeper borders will look amazing with this type of blouse.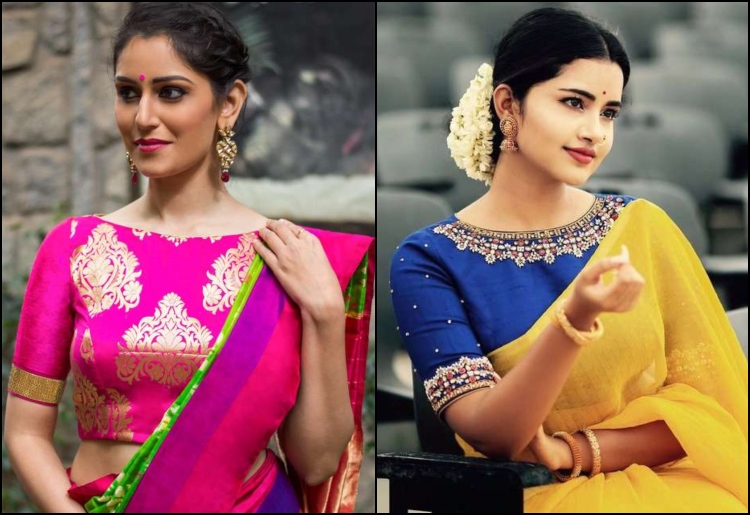 #5. Kutch Work Blouse
This blouse is an artwork in itself and can pass of for a cute crop top! Just kidding, unless you are an experimental person. Well these blouses already have a colour tone and pattern which sets the tone of the entire outfit. The intricate designing is beautiful and can easily pass for a work of art! It is generally recommended to go with light sarees as heavy ones will make you look overdone.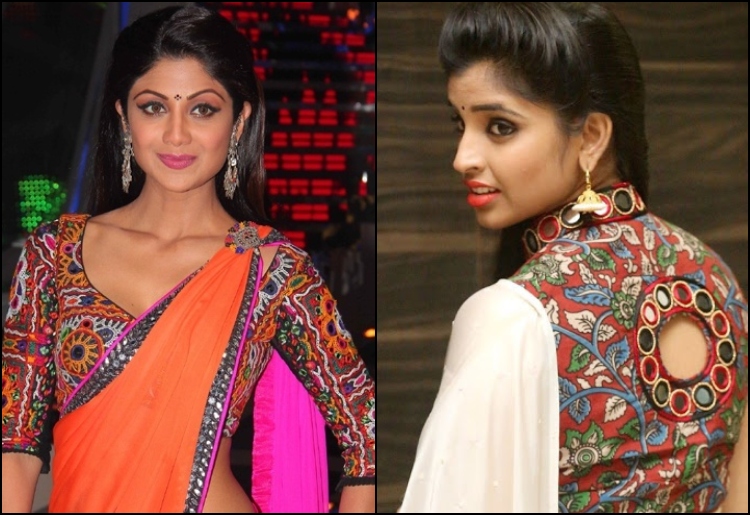 #6. Front Zip Blouse
Probably the most recent addition to the blouse designing industry zips and blouse were strangers till a very long time. Blouses are known to have hooks and buttons without much hassle. The first zipper was introduced on the side of the blouse as one could snuggle into it like a t-shirt and then tighten it. Front zip is the best option for people who are afraid of the buttons popping. This adds up as a very modern and corporate look when worn with the right saree.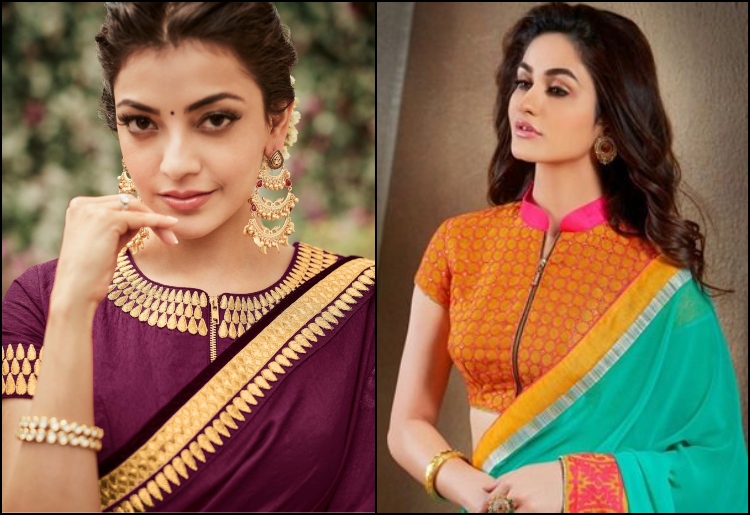 A good blouse is like the best friend of a saree who never steals it's thunder but ensures that people keep talking about it!