Badhaai Ho – Movie Review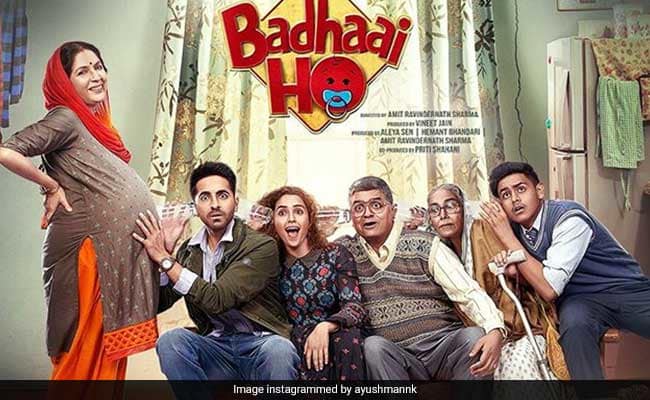 The drama comedy is based on the feeling of children who are terribly embarrassed by the outcome of their parents mid – age romance; with outsiders joining in criticism. The movie conveys some progressive thoughts. The situational humor of the movie is perfectly complimented by an elegant and striking performance from Ayushmann Khurrana, Sanya Malhotra, Neena Gupta, Gajraj Rao, Sheeba Chaddha and Surekha Sikri.
Badhaai Ho – Movie Review
STORY:
A middle aged couple Priyamvada Kaushik gets unexpectedly pregnant by her husband Jeetender Kaushik. The middle class couple feels conscious about the pregnancy as the news spread and they become a talking point in their social circle. Even their sons Nakul and Gullar grapple to cope with the situation as they believe… Is this a thing to be done by Mom – Dad?
Story is all about how all of them cope up with the news and the situations.
CAST:
1)    AYUSHMANN KHURRANA as Nakul Kaushik.
2)    SANYA MALHOTRA as Renee Sharma.
3)    NEENA GUPTA as Priyamvada Kaushik.
4)    GAJRAJ RAO as Jeetender Kaushik.
5)    SHEEBA CHADDHA as Sangeeta Sharma.
6)    SUREKHA SIKRI as Nakul's Grandmother.
7)    SHARDUL RANA as Gullar Kaushik.
8)    RAHUL TEWARI as Junaa.
9)    VIMI MEHTA as Doctor Gyne.
RELEASE DATE: 19th October, 2018.
WHY WE MUST WATCH THE MOVIE?
Ayushmann Khurrana and Sanya Malhotra's Jodi has already created enough buzz in the industry to make it one of the most anticipated films of the year.
Quirky Concept: Among the audience, it has raised the curiosity with the "Khush Khabri" act. The movie is a family entertainer celebrating family, love and everything in between. The movie is about how each character deals with the news of the upcoming unplanned member of the family.
Star Cast: While Ayushmann Khurrana plays the lead role with Sanya Malhotra as his love interest. Actor Gajraj Rao and Neena Gupta are his parents. The popular Daadi of small screen Surekha Sikri has again proved her worth in the film. All the characters are having their own contribution in the movie which serves as a major highlight.
Chartbuster Songs: Apart from the storyline and the star cast, the songs from the movie are also topping the list. The title song, "Badhaiyaan Tenu" serves as a good news anthem in the family. The Punjabi dance number for the lead couple's engagement ceremony is now a hit wedding song of the year. To touch the heart strings soulfully, the song "Nain Na Jodeen" is tugged in with beautiful lyrics and music.
REVIEWS:
A complete family entertainer and not just a laughing riot with emotions as the USP leaving you with a smile.
A genuine comedy movie with the expressions being enough by the actors to entertain us.
Each character having their own significance in the movie. A perfect blend of simplicity and decency while conveying a social message with right amount of entertainment.