7 Things You Can Do At The price OF IPHONE XS & XR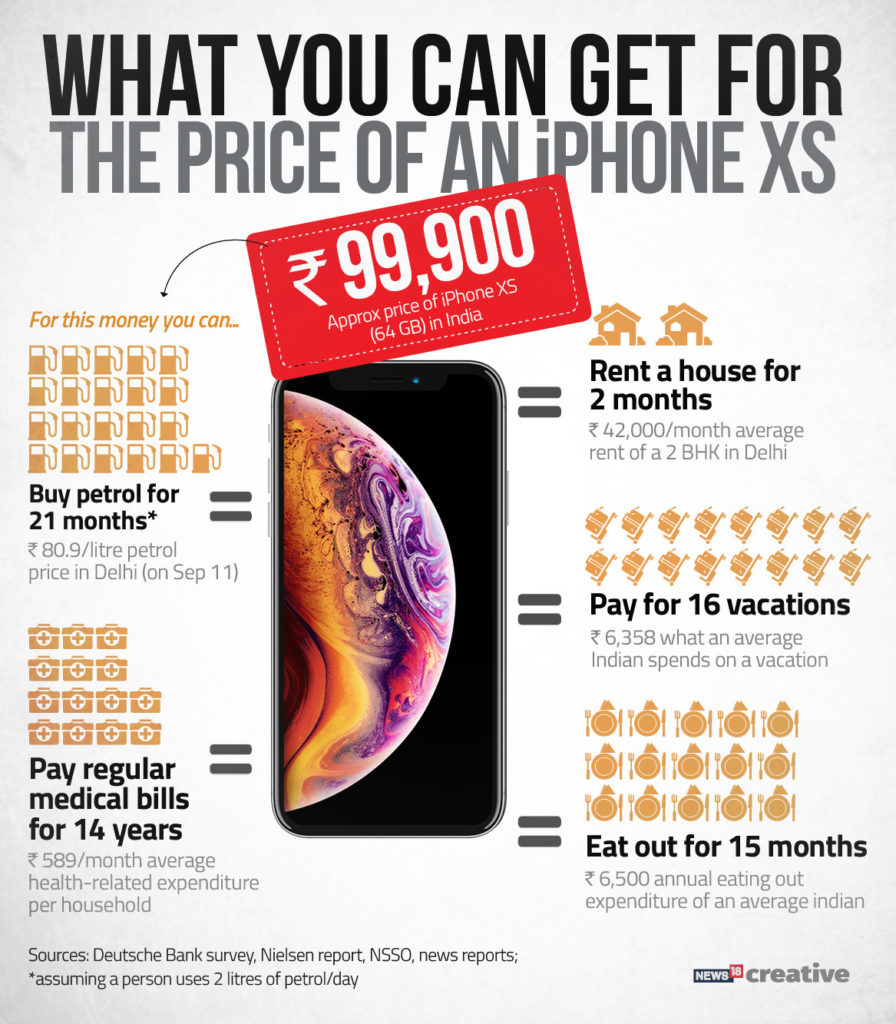 Apple Inc. is headquartered in Cupertino, California is an American MNTC that designs, develops and sells consumer electronics, computer softwares and online services.
Company's hardware products include the Iphone, Ipad, Ipod,Apple Watch, Apple TV, Homepod, etc.
One of the most expensive brands in India recently came out in the market with 2 of  its new smartphones:
1)    Iphone Xs.
2)    Iphone Xr.
Where Iphone Xs is priced at INR 99900/-, Iphone Xr starts at INR 76900/-.
Expensive. Isn't it?
So, here we bring out 7 things you can do with this whopping amount, rather than purchasing and Iphone.
1)    You can travel abroad to: Bhutan: Airfare: Rs. 20000/-, Thailand: Rs. 24000/-, Dubai: Rs. 18000/-, Malaysia: Rs. 28000/-, South Korea: Rs. 40000/-, Singapore: Rs. 22000/-, Qatar: Rs. 23000/-, Oman: Rs. 23900/-, Indonesia: Rs. 34000/-, Hong-Kong: Rs. 38000/-, Nepal: Rs. 8000/-, Mauritius: Rs. 50000/-, Russia: Rs. 40000/-, Cambodia: Rs. 38000/-, Turkey: Rs. 42000/-, Egypt: Rs. 40000/-, Vietnam: Rs. 36000/-, Sri Lanka: Rs. 17000/-, Myanmar: Rs. 42000/-. (The prices mentioned are the minimum airfares if you book at least 3 months in advance).
2)    You can Invest in Stock Market at Low Brokerage: The best thing to do is to invest the money in Share Market, Gold or in some Property.
3)    You can get yourself a New Bike which will last longer than an Iphone and explore the city and can also can go for Road-Trips.
4)    You can even Lend the amount to someone on Interest: If you don't have any huge needs, then lend the money to the needy and earn Interests.
5)    You can go for some Short-term courses to enhance your skills & talents which will be helpful for you in your life.
6)    You can buy petrol for 21 months: Rs. 80.9 litre petrol in Delhi (Sept, 11.).
7)    Rent a House for 2 Months" Rs. 42000/month, average rent of a 2 BHK in Delhi.
Well, to be frank, there are lot more "PRODUCTIVE" things you can do with such a huge amount rather than buying such an expensive phone. Although, Buying an iphone too, can be productive for some people but definitely not for everyone. A little cheaper phone can also provide a better facility than an iphone. So, think wisely before making any expense because Money is a big thing!.