5 Brands Having Best Lehangas For Navratri
Navratri, the festival celebrated with full enthusiasm and fun all around the world by Hindus by worshipping Goddess Durga and her 9 divine forms. Navratri is not only about worshiping the Goddess but also about dancing out hearts out to the beats of Garba and Dandiya and also socializing with others. Now, when we talk about socializing, the first thing which comes to our mind is DRESSING up to our best and if it is Navratri then we have to be in our best Navratri attire. The choice of attire depends on the mood and location, etc. During Navratri, a person has a lot of option to choose from but the best attire is LEHENGA CHOLI. There are various types and styles which are available in the market.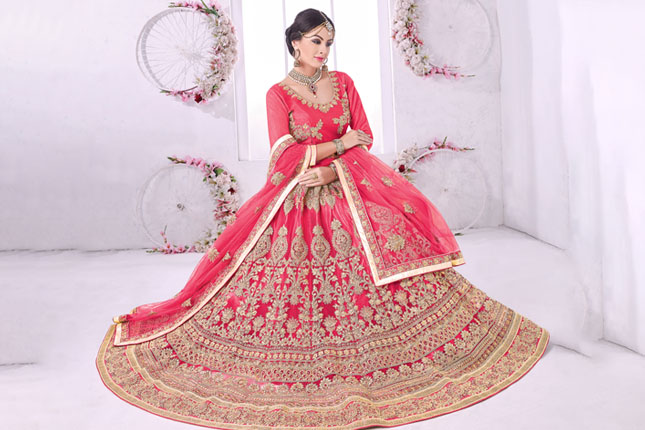 Here we bring you the list of top 5 Lehenga Brands from where you can buy some beautiful collections which will make sure to make heads turn back on you.
5 Brands Having Best Lehangas For Navratri
RITU KUMAR LEHENGA's:
Exclusively crafted designer lehenga with the best of delicate embroideries and designs which makes them exceptional from all others. If your preference is best of fusion among designs then this is the perfect place. The lehenga is sure to give your look an elegant appearance. The price range starts from INR 40000/-.
MEENA BAZAR:
Elegant designs which are not available anywhere with all kinds of work done like Zari, Dori, Stone, etc. on the lehengas. In some of the lehengas different work is done which makes it look a little more beautiful. It has a wide range which starts from INR 5000/-.
UTSAV FASHION:
It provides one wide range of lehenga's design which one wishes to wear. Coordination of the color theme in the lehenga gives a unique creation at a reasonable price starting from INR 4000/-. You can even buy the dress for just one occasion at this nominal cost. The designing provided at this price is hard to find.
PANASH INDIA:
A brand having a wide range of lehenga design depending on the function and preferences. It has all the variety of lehengas. You can choose the design and and the fabric for your lehenga. Everything is provided under one roof where price starts from as low as INR 1000/- and goes up to INR 100000/-.
AISHWARYA DESIGNER LEHENGA:
If customization is your preference and you wish to include your own design then this is the place for you. The studio personally books an appointment for taking your requirements through apps used for communication depending upon the factors like designing, fabric, work, etc. The price range starts from INR 5000/-.
Here is the top list of brands where you can get your lehengas for Navratri from. Go, check them out and wear your best this festive season.
Happy Navratri!