11th Asiad Literature Festival, New Delhi
Bharat Nirman Foundation, Delhi is organizing 11th Asiad Literature Festival & Celebrating International Woman's Day together on Sunday 17 February 2019 at India International Centre Lodhi Road New Delhi from 2-9pm. The idea is to promote & glorify Intellectuals & Women Entrepreneurs of India. In the past the foundation has organized the fest in the cities of Delhi (3 times), Mumbai, Pune, Chandigarh, Jaipur, Meerut, Chennai and gone international recently in Dubai, UAE.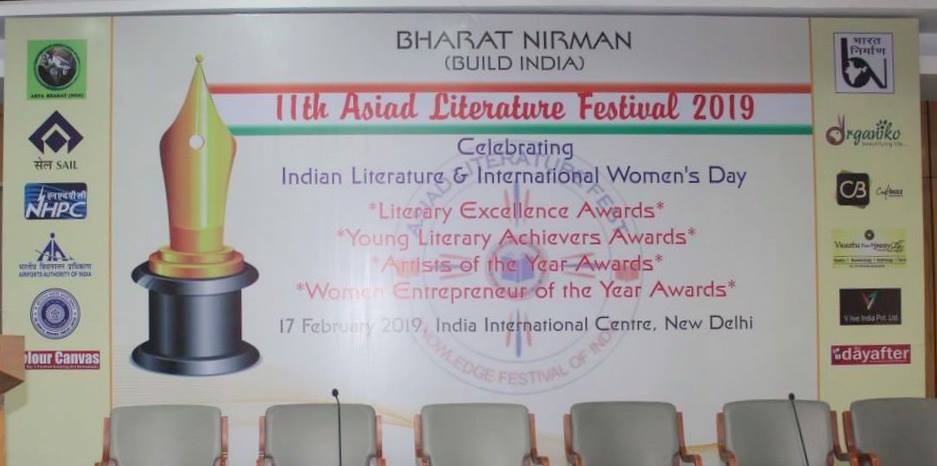 There would be different interesting panel discussions on World Peace & Harmony, Poetry & Book Reading, Commercialization of Creative Art and Role of Empowered Women of India with Literates, Artists and Women Entrepreneurs.
Namami Gange Art show will also be exhibited to promote Art of all forms. Finally, most prestigious Bharat Nirman Awards will be conferred upon prestigious inspirations from all walks of life.
There will also be an award ceremony wherein deserving authors, entrepreneurs and artists shall be awarded the following awards:
Literary Excellence 2019
Young Literary Achiever 2019
Artists of the Year 2019
Woman Entrepreneur of the Year Award 2019
About Bharat Nirman Foundation
Bharat Nirman, an organization started by great visionary Late FCA MC Bhandari, ever since its inception in 1980, has been an active participant in the India Growth Story through its Advocacy Role for the Policy Makers and Regulators of the Country. As a true representative of the Country with a large membership base of more than 25000 direct and indirect members, Bharat Nirman has forged ahead leveraging its legacy with its concern over making India most powerful country across the globe by regular interactions, Seminars, Conference and Conclaves allow healthy and constructive discussions between the Government, Industry and International Agencies bringing out the Vitals for Growth. The basic objective is to promote Art & Culture along with Intellects & Entrepreneurs of different Countries doing good in different walks of life all over the World.
Source: Press Release