11 Healthiest Low Sugar Fruits You Can Eat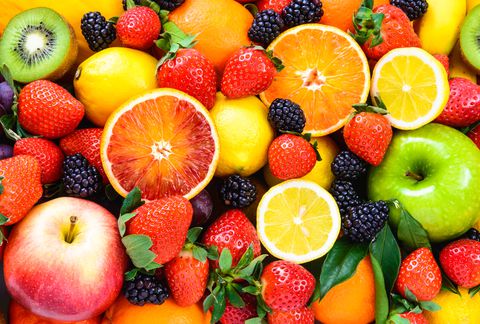 Taking count of your sugar intake is a good idea but taming the sweet tooth can be difficult. You might have cut down on processed sugars but failed to realize how much sugar your fruit contains.
While your fruit contains lots of healthy nutrients, some of them are higher in sugar.
While we do need sugar to survive but even with fruits one can have too much of a good thing which clearly means that you should not cut out fruits altogether while limiting the sugar intake because fruits contains essential antioxidants, Vitamins and Fiber.
Here we bring you the list of some fruits which are low in sugar and can be consumed easily for a better health:
Raspberries: Having only 5 grams of sugar which is a little more than a teaspoon along with lots of fiber to help fill your stomach, raspberries are one of the several amazing berries in the list.
Blackberries: Per cup of blackberries gives you 7 grams of sugar. Snack on them because it is also rich in antioxidants as well as fiber.
Strawberries: Considering the taste, strawberries are also low in sugar with about 7 grams of sugar per cup along with 100 % of daily intake of Vitamin C as recommended.
Lemon: Rich in Vitamin C, lemon and lemon and its lime green part is sour. It only contains 1 to 2 gram of sugar per lime which can be added to a glass of water to help curb the appetite. Additionally, it has a lot of other benefits as well.
Avocado: Avocados are tasty and low in sugar making them a perfect dessert substitute. Replace your typical sweetener with avocado in your mousse, cake and milkshake recipes and enjoy it.
Apples: The perfect mid day snack option because of its high soluble fiber which absorbs water to become thick. Apples have also been shown to lower your bad cholesterol levels.
Kiwis: It might look fuzzy and dull on the outside but as soon as you peel them you will find something which is too delicious to resist. A lot of flavors without added sugar. Kiwis are rich in Vitamin C with just 6 grams of sugar per kiwi. You can enjoy them all year around.
Grapefruit: While it doesn't taste as sweet as grape, they do make a delicious breakfast with just 9 grams of sugar in a half grapefruit.
Watermelon: The iconic summer fruit which serves as a perfect treat option is also great to fulfill your hydration. A whole cup of diced watermelon has around 10 grams of sugar. Additionally, it is the best source of iron.
Oranges: Another way to enjoy a sweet snack without many calories and sugar while boosting the intake of Vitamin C. An orange contains about 12 grams of sugar per fruit and around 70 calories.
Papaya: A fruit for warmer climates which has a lot of Vitamin C, Vitamin A and Fiber. A cup of chopped papaya contains around 11 grams of sugar.